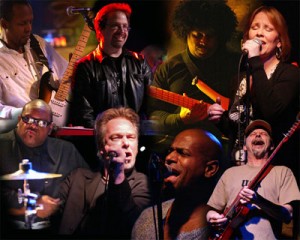 Looking for some grown-up fun on a Sunday or Monday night? Check out Dr. Mambo's Combo (AKA The Combo) at Bunker's in the Warehouse District of Minneapolis.
The Combo is a legendary who's who of local funk/R&B/soul musicians. Started way back in 1987, The Combo has been playing regularly at Bunker's for over 20 years and have no plans to ever stop doing so. All of The Combo's members have been major players in mainstream and independent music.
Every once in a while, you may catch Prince and his entourage hanging out at Bunker's checking out the combo, and if you're lucky, he may even get on stage and jam with them. Also seen making cameos with The Combo are artists such as "Jelly Bean" Johnson, Johnny Lang, J.B. of J.B. & The Routine, Charles Hayes, Billy Thommes, Kip Blackshire, and others.
The Combo consists of:
Margie Cox – Vocals
Mark Lichtieg – Vocals
Billy Franze – Guitar/Vocals
G-Sharp – Rhythm Guitar/Vocals
Bill Brown – Keys
Yohannes Tona – Bass
Sonny Thompson – Bass
Michael Bland – Drums
There is no better deal in the Twin Cities than paying $6 to see some of the most professional and talented musicians in the business today throw out some studio quality classics. Bunker's has among the best sound in the city, lots of character, and amazing cheeseburgers. So take a Sunday or Monday night and head to Bunker's to check out this legendary group. I promise you won't regret getting less sleep that night.
More info on Bunkers: http://www.bunkersmusic.com/