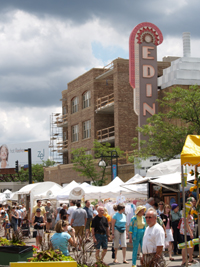 Not all the fun stuff happens in Minneapolis and St. Paul. Today's feature is an event that happens every year in Edina.
This year is the 44th time it has happened.
The 44th Annual Edina Art Fair starts tomorrow in Edina in the 50th & France area. This year 350 artists from all over the U.S. are featured along with music, entertainment, kids activities, and more.
Living green has been a hot button in recent years, and the Twin Cities has been right at the head of the pack, leading the charge to reduce, reuse, recycle, build smarter with green materials and processes, to use cleaner energy, and to ditch our cars in favor of bikes. This year, for the first time ever, look for the new Green Art section in the Lund's Parking Lot at the art fair. GREEN ART- Is for artists who work exclusively with environmentally friendly materials. Art must be made 70% of recycled and/ or reused materials.
A free shuttle will run from the Southdale Shopping Center to the Edina Art Fair 60 minutes prior to the opening of the Art Fair. The shuttle will run a continuous loop until 60 minutes after the Art Fair closes.
The shuttle buses will load & drop off in the northeast corner of Southdale, at the corner of W. 66th St. and York Avenue South. The lot is next to Firestone.
There will also be dozens of food & beverage places lining the streets for you to get your snack on.
Art Fair hours are Friday and Saturday, June 4th & 5th, from 10 a.m. to 7 p.m. and Sunday, June 6th from 10 a.m. to 5 p.m. The fair is free, but bring for food, drink and shopping.
Full Edina Art Fair schedule of events: Edina Art Fair Program (PDF)
For more information, see Edina Art Fair's website.