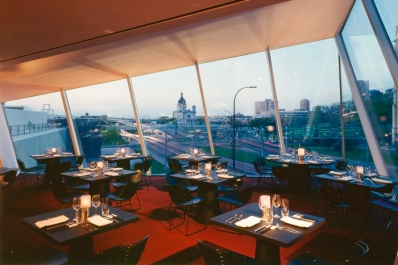 Those of you who have been following our blog will notice that we featured the Walker Art Center way back on Day 2, with it's Target-sponsored free Thursday nights, 20th- and 21st-century art, Sculpture Gardens and so on. Today we wanted to make you aware of a restaurant INSIDE the Walker that's definitely worth a mention: Wolfgang Puck's 20•21.
Let's get this out of the way first: this place is NOT cheap. But still, for a splurge or a special occasion, I can't think of a cooler place to have dinner.
As mentioned, 20•21 is located inside the Walker Art Center, on an upper floor cantilevered out over Hennepin Avenue. It has a giant wall of angled windows offering one of the most spectacular and breathtaking views of downtown Minneapolis in the entire Twin Cities dining scene (See photo above).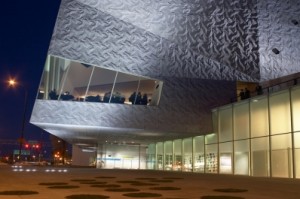 Wolfgang Puck's 20•21 first opened its doors in 2005 and is specifically designed for its home at the Walker Art Center. The restaurant is named for the focus of the Walker's collection—20th- and 21st-century art—and inspired by the continual innovation of the Walker and Puck himself. It was designed by award-winning architects Herzog & de Meuron, as part of the Walker's building expansion in 2005.
You can take a peek at the Asian-inspired menu at Wolfgang Puck's website. Fusing various culinary influences with fresh local ingredients makes 20•21 not only a unique dining experience, but a place of local interest as well—a refreshing change from the corporate chain restaurants that are scattered throughout suburbia.
Don't forget that, while the views and experience are more breathtaking at night, you can have lunch there as well, for less cost and "lunch-sized" menu options. The cost for most lunch items run in the $10 to $20 range, while dinner options are generally $25 to $45 or so.
HOURS / DETAILS
Tuesday-Thursday
Lunch: 11:30am-2 pm
Dinner: 5:30pm-9pm
Friday-Saturday
Lunch: 11:30am-2pm
Dinner: 5:30pm-11pm
Sunday
Lunch: 11:30am-2pm
Bar: 5pm-Close
Tuesday-Saturday
Reservations are recommended. 20•21 is located in the Walker Art Center at 1750 Hennepin Avenue in Minneapolis. Call (612) 253-3410 for information or to make reservations.
You can also make reservations online at the website.
For more information, menus, and other information, visit http://www.wolfgangpuck.com/restaurants/fine-dining/3836