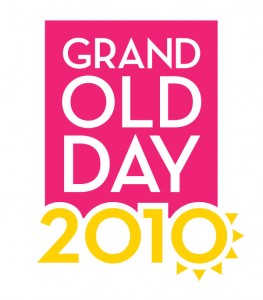 Grand Old Day is St. Paul's first rite of summer. It takes place along Grand Avenue, which runs all the way from the Mississippi River to downtown St. Paul. However, most of the action takes place between Fairview Avenue and Dale Street, a stretch of Grand Avenue that has something for everyone.
You'll find restaurants that range from pizza places, Asian food (Thai, Chinese, Vietnamese), upscale, bar & grills, a few national chain restaurants, hip coffee shops and much more.
There are also recognizable shops like Pier 1 Imports and J. Crew, but also dozens of local businesses from funky boutiques, flower shops, art supply stores, places that carry specialty apparel and so much more.
Don't forget all the food and entertainment options. There will be local restaurants and concessions selling food and beverages in tents all along Grand Avenue all day, but there will also be a host of other options, including some interesting people-watching and some great live and local music.
ROCK THE CAUSE STAGE, US Bank lot – Grand & Oxford
Ari Herstand
Catchpenny
Roster McCabe
SALUT BAR AMERICAIN STAGE, Grand & Milton
DJ Verb X
Jason Shannon
Heiruspecs
Doomtree
BILLY'S STAGE, Grand & Victoria
Arc Flash Hazard
Orange Whip
Hookers & Blow
WILD ONION STAGE, Grand & Avon
White Iron Band
G.B. Leighton
GREEN MILL STAGE, Walgreens Lot, Grand & Grotto
Zoo Animal
Dessa of Doomtree
Jeremy Messersmith
CITY PAGES STAGE, Pier 1 Imports Lot, Grand & Grotto
First Communion Afterparty
Red Pens
The Melismatics
Mark Mallman
DIXIE'S STAGE, Grand & St. Albans
Chooglin'
Von Bondies
Grand Idol Winner
Free Energy
Grand Old Day 2010 is this Sunday, June 6. Festivities will begin around 8 a.m. and wrap up around 5 p.m. Shuttles will be available and there are about 150 new bike parking spots along Grand Avenue.
For more information: http://grandave.com/grandoldday/