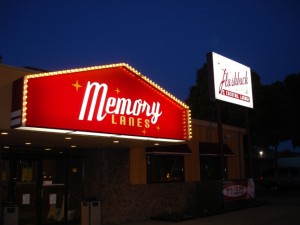 Free week continues with a free party so epic it lasts two days.
Memory Lanes is a bowling alley, bar and live music venue in the Seward neighborhood of Minneapolis at 2520 26th Ave. S. There is a map and information on the Metromix website if you need to visualize the location.
This year's block party starts at 3 p.m. both Saturday and Sunday (so today's lineup is already underway). Today's bands include Chooglin', No Bird Sing, Joey Ryan & The Inks, and many others. They'll be taking the party indoors at 10 p.m. for the 21+ afterparty at the Lanes, with more music from DJ Shannon Blowtorch, Staraoke Karaoke, and Red Pens. Of course, the pre-10 p.m. fun is all ages, FREE, and open to the public. Check out the event page on Facebook for more details.
Sunday's lineup includes Total Babe, The Evening Rig, Lucy Michelle & The Velvet Lapels, Black Blondie and local faves, Halloween, Alaska among others. There is a 10 p.m. afterparty again Sunday night for the over-21 crowd.
If you're unsure what time your favorite band plays, call (612) 721-6211 with questions.
For more information on Memory Lanes: http://www.memorylanesmpls.com
More information about the Memory Lanes Block Party: Facebook Event Page