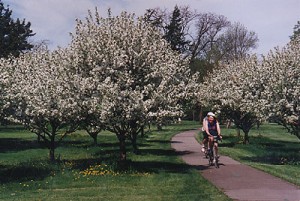 This week we are celebrating the idea of keeping your wallet in your pocket as we explore all things free in the Twin Cities. We've featured giveaways and attractions with free admission, but today we are celebrating one of the best free activities there is: getting outside and enjoying a bit of nature.
The Grand Rounds is a network of seven byway districts with over 50 miles of paths for biking, walking, rollerblading, running, hiking, cross-country skiing, or your favorite non-motorized activity. Each of the seven districts are distinct segments of The Grand Rounds that exhibit unique landscape characteristics and cultural resources. The seven districts are the Downtown Riverfront, The Mississippi River, Minnehaha, Chain of Lakes, Theodore Wirth, Victory Memorial, and Northeast.
There are 20 access points from major highways and city thoroughfares interspersed throughout the byways. Also, you can find more than fifty identified Interpretive Sites — Discovery areas where the public will have opportunities to experience interpretation programs and exhibits.
Also along the 50-mile route, you'll be able to enjoy a dozen lakes and ponds, four golf courses, two waterfalls, natural and planned gardens, creek and river views, and 50+ miles of hiking, biking, skiing and driving paths.
In April of 1998, the Federal Highway Administration designated the Grand Rounds as a "National Scenic Byway".
With the days of sunshine and warm temperatures here to stay (more or less–this IS Minnesota, after all), The Grand Rounds Scenic Byway offers a chance to get out, enjoy the sunshine, get a little exercise, see the sights, see breathtaking views of the Mississippi River, Lake Calhoun, Lake of The Isles, Lake Nokomis, and many others, all for the low, low price of…FREE.
Can't get better than that!
For more information: http://www.minneapolisparks.org/grandrounds/home.htm