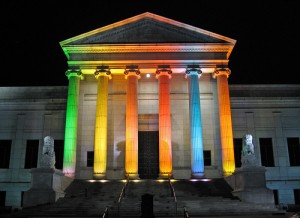 The Minneapolis Institute of Arts (MIA) is a world-class art gallery and museum located in the Whittier neighborhood of Minneapolis. We've made reference to it in previous posts (See Day 32: "A Foot in the Door" and Day 50: "Eat Street Excursion"), but we thought it would be a nice addition to feature this week as we highlight free events and attractions each day of the week. While there is an occasional ticketed exhibition, which are usually free to MIA members, all other exhibitions are free and open to the public.
Current featured exhibitions include the highly-acclaimed Until Now: Collecting The New (1960-2010), a ticketed exhibition (free to MIA members), Southern Exposure: Photographs of the American South, Foot in the Door 4 (See Day 32: "A Foot in the Door"), New Pictures 2: Marco Breuer, and Global Positioning c. 1600: A Rare World Map. See more information on these and other exhibitions at MIA's Current Exhibitions page.
You can see a number of art collections in the gallery at MIA or tap into a number of education resources. MIA is the largest art education program in the state of Minnesota, and has a slew of teacher and education resources available. Check the calendar and events online or call (888) MIA-ARTS for more information on education opportunities. There is also a handy phone directory with direct numbers for each department.
Notable collections are the Asian art collections, one of the largest and most comprehensive in the country, the African Art collection, and the Native American art collection. There is also a large Modern Art collection.
There are a number of ways you can get involved with the Minneapolis Institute of Arts through membership, planned giving, corporate giving, volunteer opportunities, internships, and so much more.
Free parking is available in lots around the museum, bring your parking ticket to the museum to receive a code to exit the lots. On-street parking can usually be found within a block or two.
The museum has a restaurant and coffee shop, and it is two blocks away from Nicollet Avenue's "Eat Street" with a wide range of restaurants.
The museum is free to visit, so take your time, enjoy the exhibits, and come back again.
For more information: http://www.artsmia.org/
Location and Map