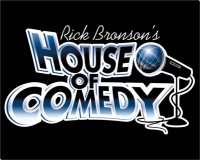 Happy Free Week everyone and we are starting off with a huge and amazing FREE deal!
Come to a FREE Comedy Show at Rick Bronson's House of Comedy!
The 365 Guys were able to attend a show last month and the manager told us that he wanted to do something special for everyone who "LIKES" 365TwinCitiesMN on Facebook so he said let give them all Free tickets to a show. So in honor of being day 54 of 365 Things to do in the Twin Cities, Rick Bronson's House of Comedy is giving our fans free tickets to a comedy show tonight!! Here is all you need to do…
In order to reserve your free tickets (up to 4 per person/online order), called 952-858-8558 from 10:00am to 5:00pm or you can also book online at www.houseofcomedy.net.
This offer is valid for the 8:00pm "Hit or Miss" show on May 25th featuring 12 local comedians. Should that event reach sell-out status (which I am confident it will), the House of Comedy will begin offering additional shows as options. Additional options may include 8:00pm on Wednesday, May 26; 8:00pm on Thursday, May 27; 10:30pm on Friday May 28; 10:30pm on Saturday May 29; and/or 8:00pm Sunday May 30.
Please note: If ordering online, you must use the promo code "365" in order to get the 100% discount for the tickets, but you will still have to pay an online processing fee. Phone orders will be FREE and NOT incur any service/processing fees. (SO CALLING TO ORDER IS THE RECOMMENDED OPTION!) If the phone is busy, keep trying.
Please feel free to indicate you'll be attending a free show by confirming you'll be attending, however you'll still need to CONFIRM your reservation via the online or phone method.
"LIKE" the House of Comedy on Facebook at http://www.facebook.com/pages/Bloomington-MN/House-of-Comedy/87474493494 and tell them 365 Twin Cities sent ya!
Official Facebook event for tonights 365 comedy show http://www.facebook.com/event.php?eid=122086344489233