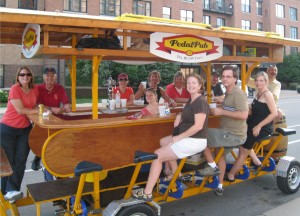 If you're in the mood for some slow, ridiculous fun this weekend or some other day this summer, you can rent a party on wheels that you power with your legs. That's right, kids. It's the Pedal Pub!
The Pedal Pub is a 16-passenger bike with a "bartender" who drives while you power the vehicle with pedals. There are five pedaling seats on either side, a non-pedaling seat above the rear wheels, and a bench seat in back that seats three. It's a mobile BYOB party! The Pedal Pub doesn't supply food or beverages, but they allow you to bring your own party around town.
There is a variety of routes available as well. There are six different pub crawl routes to choose from, scenic routes to St. Anthony Main/Stone Arch Bridge and Harriet Island in St. Paul, and picnic routes to Nokomis, the Calhoun/Lakes area, and Nicollet Island in Minneapolis. You can also tailgate or choose a custom route. If you do a custom route, keep in mind that anything beyond a 5% or 6% grade incline will probably require you to get out and push! None of the pre-planned routes have ever required pushing, however.
Although pricing varies, if you fill the seats, the Pedal Pub can be rented for about $10 to $12 per hour per person, based on 16 passengers. See the pricing page for more details and conditions at the website.
A party on wheels? Literally. Hey, why not?
For more information: http://www.pedalpub.com/
Like PedalPub Twin Cities on Facebook.
Follow @PedalPubTC on Twitter.
PedalPub Twin Cities
Minneapolis/St. Paul, MN
(952) 703-9000
twincities@pedalpub.com
http://twincities.pedalpub.com