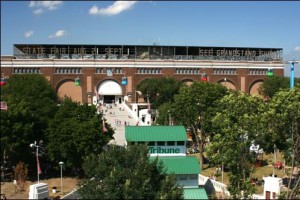 Those of you who have lived in The Twin Cities for any length of time are probably aware of the variety of entertainment available at the MN State Fair. We'll get into some of those in a post later in the summer as State Fair time draws nearer.
Today the concert lineup for this year's State Fair Grandstand has been announced, and we thought it would be a good time to let you know about it in advance so you can get your tickets and make plans.
The State Fair draws people from all over, not just the Twin Cities. So if you live here, or will be here, check out the awesome variety of acts at this year's Grandstand:
August 26: THE BODEANS (w/ Big Head Todd & The Monsters)
August 27: RUSH (performing "Moving Pictures" in its entirety for the first time ever)
August 29: BRANDI CARLILE (w/ Amos Lee)
August 30: SEETHER (w/ Hinder and Black Stone Cherry)
August 31: CARRIE UNDERWOOD (w/ Sons of Sylvia)
September 1: WEIRD AL YANKOVIC (w/ nobody but his accordian and a heap of mojo)
September 2: MERCY ME (w/ Jeremy Camp)
September 3: A PRAIRIE HOME COMPANION w/ Garrison Keillor
September 4: KISS (w/ makeup? Maybe)
September 6: Dukes of September Rhythm Revue, featuring BOZ SCAGGS, MICHAEL McDONALD, and DONALD FAGEN (of Steely Dan)
As you can see, there's something for everyone. See the Grandstand web page for ticket info, show times and other info.
I'd like to see almost any of these. What show are you most excited about? Leave us a comment.
For other State Fair info: http://www.mnstatefair.org