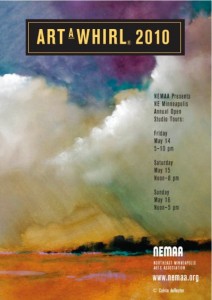 Spring is definitely an active time of year in the Twin Cities' art scene. If you read our blog back over the last 42 days, you'll see an astonishing number of events and places related to visual art and design. Today's post is another in the continued unveiling of the incredible diversity of visual arts available in the Twin Cities.
Art-A-Whirl is an open-studio and gallery tour of Northeast Minneapolis. It is an enticing event that calls and welcomes local and regional visitors who want to see the art being produced in the neighborhood. Northeast Minneapolis Arts Association, or NEMAA, is the bridge between the local and regional world and NEMAA artists. As visitors come to see the art, they also experience the NE Community. More than 500 artists participate in AAW, including potters, tile makers, painters, sculptors, musicians, photographers, glass blowers, printmakers, and textile designers. They showcase their art in warehouses, homes, storefronts and cafes.
Art-A-Whirl is the largest open-studio gallery tour it the United States.
Dates and times:
Friday, May 14th – 5:00-10:00 p.m.
Saturday, May 15th – Noon-8:00 p.m.
Sunday, May 16th – Noon-5:00 p.m .
Stop by welcome booths at 13th and Marshall or Quincy St. and Broadway NE for information on locations and exhibits. You can also download a locator map at the Art-A-Whirl map page.
For more information on Art-A-Whirl or NEMAA: http://www.nemaa.org/index.php