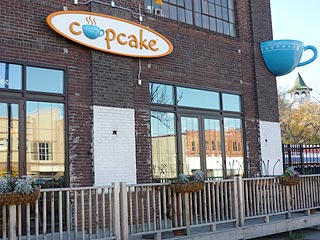 Tired of the same old bakery donuts? Maybe it's time to make a run to Cupcake next time you get a yen for a sweet treat. Cupcake is on University Avenue in the Prospect Park area near the University of Minnesota, and has become the area's premier purveyor of impeccably-frosted, beautifully-decorated, moist and delicious cupcakes.
But they do more than just cupcakes.
Sure, they're a specialty shop. They make the most artistic sweet edibles this side of the moon, but they also have a full menu of soups, salads, sandwiches, panini, quiches, scrambles, and other breakfast goodies like oatmeal and fresh fruit. They're open til 9 p.m. every night except Sunday, and serve breakfast all day.
Oh, but those cupcakes!! Cupcake serves over 100 different cupcakes with various combinations of flavors, edible and inedible decorations, such as is the case with the Pina Colada cupcake. This treat from the party line is a pineapple cupcake soaked with Malibu buttercream and decked with toasted coconut and topped with a parasol. For a look at the colorful, sweet, and tasty options visit the cupcake page to see images of each, and just hover over each image or click for a description.
3338 University Ave. SE.
Minneapolis, MN 55414
Phone Number:
(612) 378-4818
HOURS OF OPERATION:
Monday – Friday: 7:00 am – 9:00 pm
Saturday:8:00 am – 9:00 pm
Sunday:8:00 am – 7:00 pm
For more information and a virtual tour: http://www.cup-cake.com/