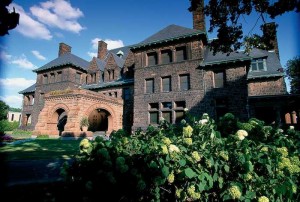 It's Mothers' Day today and a gorgeous sunny, but not-too-hot day. After taking Mom out for brunch, try taking a nice walking tour of the famous Cathedral Hill area of St. Paul and check out all the mansions built by and for railroad and mill tycoons in the late 19th and early 20th centuries.
Take a 90-minute tour of the Summit Avenue neighborhood, named one of America's "Great Streets" in 2008. The walking tours highlight the Gilded-Age mansions that line the elite avenue and the people who owned them and built them. Guides will talk about the architecture, social history and current preservation issues of the historic neighborhood. Tours start at the James J. Hill House and proceed west on Summit Avenue returning via sidestreets and alleyways and concluding outside the Cathedral of St. Paul. The popular tours are offered every Saturday and Sunday May through September.
Guided tours are Saturdays at 11 a.m. and 2 p.m. and Sundays at 2 p.m. at the James J. Hill mansion at 240 Summit Avenue, but there is also a special Mothers' Day tour this afternoon at 4:30 focusing on women's roles at the Hill house, then a lecture at 5:30. Or, you can just walk, bike, skate or "segway" the neighborhood at your leisure for free anytime.
You can take a photo tour of the historic mansions online, if you're stuck indoors today. You won't get the information and history that you'd get with the walking tour, but you can do it anytime, even a rainy day. Check out the website for information on guided walking tours.
Reservations are recommended. Call (651) 297-2555 for group tour information.
For information on the James J. Hill mansion: http://www.mnhs.org/places/sites/jjhh/