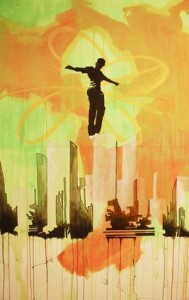 If you've been following our blog, you'll see that we have been posting a lot of art shows and galleries. Right now the Twin Cities are hosting an unusually large number of interesting art exhibits.
The latest unusual collection of art to come to our attention is a show called F.R.E.S.H. (yeah, we're not sure what it stands for either. If anyone knows, comment below), which showcases guerilla art (unauthorized art in public spaces), murals, graffiti and other styles of urban art with hip-hop and punk rock influences and will also touch on those, and other, musical movements. F.R.E.S.H. will take a look at the origins, expressions and effects of street art as it has occurred in and beyond the gallery walls.
The show will include pieces of various media, including sculpture, photography and paintings of and inspired by the works of urban street artists.
The show runs Tuesday, Thursdays and Saturdays, now through Saturday May 29. Altered Esthetics' hours are 1 p.m. to 7 p.m. on Tuesdays and Thursdays, and Saturdays from 1 p.m. to 5 p.m., and have opening receptions for each show on the first Friday of each month.
Altered Esthetics is located in Northeast Minneapolis, in the Q'arma Building. Check the map for details.
For more information on the show, call Altered Esthetics at (612) 378-8888.
For more information about Altered Esthetics: http://www.alteredesthetics.com/