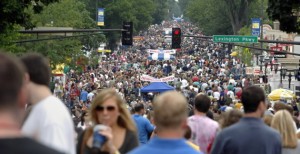 Q: What's better than enjoying a gorgeous sunny day in early June eating outdoors, shopping, and seeing live music?
A: Not much
The forecast for Sunday June 5th calls for sunny skies, 0% chance of precipitation, and highs near 80. No storms, tornadoes, heavy rain, hail, or high winds–exactly what one might consider a perfect summer day (barring insane humidity). Can't get much better than that for Grand Old Day 2011.
Grand Old Day is St. Paul's first rite of summer and takes place all along the city's historic Grand Avenue on the first Sunday in June. The Grand Avenue Business association produces Grand Old Day each year and collects monies from the event for marketing the Avenue, annual events, business-to-business opportunities and avenue beautification.
The day gets rolling early at 7:45am with Grand Old Day On The Go, which features an 8K inline skate, and 8K run, a 5K run/walk, and a youth run. See the info at the link for registration information and see the schedule for event times and details.
Along Grand Avenue you'll find over 150 food and beverage vendors waiting to satisfy your hunger and thirst. They won't take cash or credit, only tickets. Hit up one of the 17 ticket booths along the street for tickets at a cost of a sheet of 10 tickets for $5. Use the tickets at business and vendors all day long.
While there's no cost for Grand Old Day itself, bring cash for tickets and for live music. Fork over just $6 now (or $8 that day) for a wristband to get into the festival gardens to have some drinks and check out the live music. You must be 21 or older to get a wristband. The $6 pre-sell tickets are available at Billy's, Dixie's, Wild Onion and Green Mill through June 4. See locations for details.
So let's talk about the live music.
Whole Foods Market Family Fun Stage
(Whole Foods parking lot, Grand & Fairview)
Noon – Summer Reading Program Kickoff & Prizes
12:15pm – Clementown
1pm – Koo Koo Kanga Roo
1:45pm – Brodini
2:30pm – Wendy's Wiggle, Jiggle & Jam
3:15pm – Koo Koo Kanga Roo
4pm – The Lara's
Grand Country Stage
(US Bank parking lot, Grand & Oxford)
Noon – Chris Brooks & the Silver City Boys
1:45pm – Church of Cash (Johnny Cash Tribute)
3:30pm – Tim Sigler
Billy's Stage
(Billy's parking lot, Grand & Victoria)
Noon – Arc Flash Hazard
1pm – Orange Whip
2:45pm – Hookers & Blow
Wild Onion Stage
(Wild Onion parking lot, Grand & Avon)
Noon – White Iron Band
2pm – G.B. Leighton
Gimme Noise Stage
(Walgreen's parking lot, Grand & Grotto)
Noon – Arms Akimbo
1:30pm – Communist Daughter
3:30pm – Chris Koza
City Pages Stage
(Pier One Imports parking lot, Grand & Grotto)
Noon – No Bird Sing
1pm – DJ S/K between sets
2pm – Mayda
4pm – Phantom Tails
Dixie's Stage
(Dixie's parking lot, Grand & St. Albans)
Noon – DJ Strangelove
12:30pm – Dead Man Winter featuring members of Trampled By Turtles
1:45pm – The 4ontheFloor
3pm – Grand Idol Winner
3:45pm – Heiruspecs
That's the run-down. Also, catch the McNally Smith College of Music Teen Battle of The Bands at Patagonia parking lot (Grand & Macalester). Once again, there's something for everyone, and lots of fresh local talent to be seen and heard. Don't miss out!
Also, don't miss the Family Fun Zone, presented by Valleyfair at Ramsey Jr. High, Grand & Cambridge for a petting zoo, pony rides, mini-golf, games, inflatable bounce houses and more.
Whew! Sounds like full day! Head out early Sunday and squeeze in as much fun as you can. According the weather people, it should be a perfect day for it.
More information can be found at grandave.com/grandoldday.
Like Grand Old Day on Facebook.
Follow @grandoldday on Twitter.
Grand Avenue
St. Paul, MN 55105
(651) 699-0029
http://www.grandave.com/grandoldday/