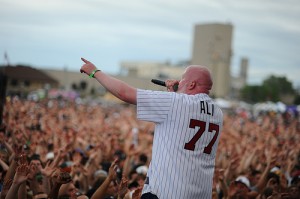 We haven't talked too much about the vibrant Twin Cities underground hip hop scene on this blog, and perhaps we'd be remiss if we didn't dedicate one of our first 365 posts to it.
That said, Soundset is a huge event that showcases the depth of talent in our hip hop scene, as well as others across the country. Hip hop crews from Chicago, New Orleans, Atlanta, New York, and other places will mix it up with a largely Twin Cities-based lineup this Sunday May 29th at Canterbury Park. The festival kicks off at 11am and goes all day and into the evening.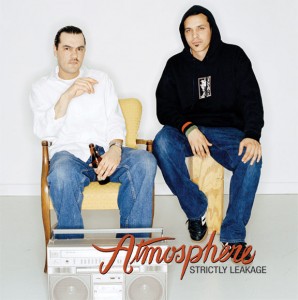 This year's lineup includes local acts Atmosphere (pictured right), Brother Ali (pictured above), Doomtree (P.O.S, Dessa, Sims, Cecil Otter, Mike Mictlan, Lazerbeak, Papertiger), Face Candy, DJ Abilities, and Desdamona, along with De La Soul, Big Boi from Outkast, New Orleans rapper Curren$y, and Slaughterhouse (Joell Ortiz, Joe Budden, Royce da 5'9″, Crooked I), among many others.
Come for the insane hip hop and stay for the sideshow mayhem. Red Bull BC One Cypher, a B-Boy/B-Girl showdown will also be in full effect, as well as the fourth annual Soundset Custom Car Show, complete with Hydraulic Hop Contest and trophies in 30 different categories.
The Last of The Record Buyer's Hip Hop Production Showcase makes a return this year with a fresh set of challenges and challengers. Five DJ's battle it out on two challenges. First, each must make an exclusive remix of Atmosphere's "Millennium Dodo", from their record "The Family Sign." Next, each picks a TV show theme out of a hat and chops it up to create an original beat.
When the music and festivities start to fade, head downtown to First Avenue for the Official Soundset 2011 Afterparty, hosted by Brother Ali, with surprise special guest performances, and a headline set by San Francisco's Mike Relm. Tickets can be obtained online for $9.50 (Afterparty only), or you can pick them up at Fifth Element or First Avenue. Doors open at 10pm.
Tickets for Soundset 2011 Festival are available for online purchase, or in person at Fifth Element. Tickets are $43, which includes parking and facilities.
For more information, visit www.soundsetfestival.com.
Follow @Soundset on Twitter.
Like Soundset on Facebook.
Canterbury Park
1100 Canterbury Road
Shakopee, MN 55379
(952) 445-7223