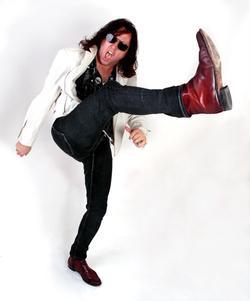 We've been doing this just over a year, and we have alluded to past featured posts before. Today, we're mentioning an event so cool, it deserves to be featured again this year, even though it was a featured post last year.
Last year, Memorial Day weekend, we mentioned Memory Lanes Block Party (Day 58) as part of our Free Events week. This year it appears the party has grown to include three days (last year's block party was just two days).
Gates open at 3pm on Saturday May 28th. Have a beer and mingle before live music starts at 4:20pm with G-Biz on the Outdoor Stage. Also on the bill for that evening is The Goondas, Pink Mink and local rock superhero, Mark Mallman (pictured above) headlines the evening at 8:45pm.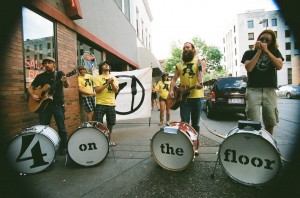 Sunday the music kicks off with Al's Rockabilly Trio at 3:30pm. Other Sunday highlights include local blues/rock stompers The4onthefloor (pictured right) at 6:30pm, followed by Lucy Michelle & The Velvet Lapelles, and Split Lip Rayfield closes the evening out on the Outdoor Stage at 8:45.
Also on Sunday, the Pabst Beer Tent Stage will feature Crankshaft's Primitive R&B Revue, three sets by the Bootsrap Family Band and rollicking performance by Cadillac Kolstad & The Flats.
A third day has been added this year, so Monday catch lives sets from Frozen Teens, Misery, the GD Doo Wop Band, and Useless Wooden Toys.
The party moves indoors at 9:30 both Saturday and Sunday nights after the last outdoors performances. DJ sets and live music start at 9:30 each night. Live performances include E.L.nO. (Tribute to E.L.O.) on Saturday night, sandwiched between sets by DJ Shannon Blowtorch. Sunday nights live performances will be from Tomahawk Tassels & Her Tribe of Tease and Davina & The Vagabonds, with more DJ sets from Shannon Blowtorch in between.
This will be an epic event with lots of live music and fun in the sun (if the weather cooperates). It is free, all ages (except the indoor afterparties, which are 21+), and open to the public.
For more info and to RSVP, check out the Facebook event page.
Memory Lanes Bowling and the Flashback Café
2520 26th Ave. S.
Minneapolis, MN 55406
(612) 721-6211