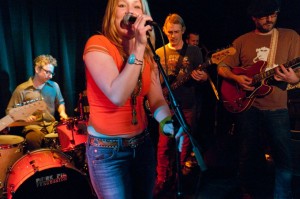 Beer and live music go together so well, particularly outdoors. And with summer just around the corner, we'll likely find more opportunities for that kind of thing in the coming weeks.
This weekend is a great way to participate in the outdoor-live-music-and-beer model that brings us so much fun and good times during summer months.
Saturday, May 21st head over to Stanley's Northeast Bar Room from 1 to 4pm for more celebration of Minnesota Craft Beer Week as they host Schell's & Grain Belt Craft Beer Garden and Outdoor Festival. Pay $5 for a wrist band and get $1 off any Minnesota Craft Beer, and enjoy live tunes from The Teddy Holidays, long time local reggae all stars Ipso Facto, and catch Adam Levy's cover band Hookers $ Blow (pictured) breathe new life into soul classics with fiery vocals from Andra Suchy and an aggressive horn section.
All the tips from the beer garden will go to the Minneapolis Firefighters Local 82 Charities.
Enjoy Hammerschalgen, beer and live music just how it was meant to be–outdoors.
For more info, see the event page on Stanley's Northeast Bar Room's website.
Stanley's Northeast Bar Room
2500 University Ave. NE
Minneapolis, MN 55418
(612) 788-2529