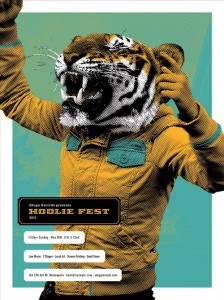 Some folks like the concerts of jam bands such as Phish, where lengthy jams and long solos are the focus, or shows by virtuoso instrumentalists who showcase their skills with long sets of songs with flashy instrumentals.
But if you like shows that are quick and dirty, and filled with mad variety, Hoolie Fest is right up your alley.
This weekend, starting Friday, Hoolie Fest kicks off at Shuga Records in Northeast Minneapolis at 3pm and wraps up Sunday evening, sometime around 9pm. What happens in between is a musical Dagwood sandwich of live performances by over 75 different artists and bands.
Catch a diverse group of performances, both indoor and outdoor, by bands such as Communist Daughter, Sex Rays, Phantom Tails and Hastings 3000 on the indie tip, to The Sunny Era's take on old world music for modern times. Enjoy hip hop from Unknown Prophets, the country and folk stylings of The Cactus Blossoms, the "Oh Brother, Where Art Thou" early 20th century rural country vibe of Crush Collision Trio, the gutter blues-spaghetti western-chamber country of Painted Saints, the hillbilly blues of the Fat Chance Jug Band, the straight up alt pop rock of Chemistry Set, the folky Americana of Lucy Michelle & The Velvet Lapelles, and a dizzying array of other artists.
Order one of these cool t-shirts and get a free weekend pass. Otherwise, tickets are $1 for a day pass or just $2 for the weekend. Not too shabby, considering the amount of musical awesomeness. Proceeds benefit St. Stephen's Human Services, a non-profit that works to eliminate homelessness.
For more information and a full list of performances, visit www.hooliefestmpls.com.
RSVP on the Facebook event page.
Follow @shuga_records on Twitter.
Shuga Records
165 13th Avenue Northeast
Minneapolis, MN 55413
(612) 455-6285