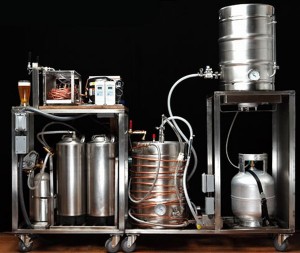 Just in the last couple of years, at least two or three of my friends have bought and set up home brewing kits and began brewing their own beer. It seems to be a hot trend among the beer-savvy crowd across the nation. They mention the freedom to brew beer exactly to their own preferences. And everyone loves freedom.
Tomorrow, Saturday May 14th, starting at 2pm, Stanley's Northeast Barroom and Northern Brewer Homebrew Supply bring you their home brewing demo at Stanley's.
Northern Brewer will be on hand conducting a brewing demo and answering questions about getting started in home brewing, and how home brewing is the backbone of any good craft brewer, brewery, and beer scene. See how easy and fun brewing your own beer can be. Northern Brewer will also have free catalogs, free instructional DVD's, and coupons for starter kits to help you get started.
Ever wonder how beer is actually made? Or about making your own beer? Learn how to brew up your own lager, ale, or other brew, and how to infuse flavors and ingredients to make the perfect blend. Head out to this cool demo and get the skinny on how to purchase and set up your own home brewing kit, and how to put the ingredients together to make the magical concoction you want to make, exactly how you imagine it.
Brews will be available for purchase, but the event is otherwise free and open to the public. Since it involves alcoholic beverages, this is only for the 21+ crowd.
For more information about Stanley's Northeast Barroom and this demo, visit the event page on their website or call (612) 788-2529.
Stanley's Northeast Bar Room
2500 University Ave. NE
Minneapolis, MN 55418
(612) 788-2529