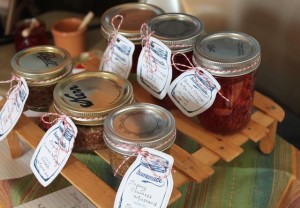 Hey, who misses the barter system? In some countries, you can still get a lot of mileage out of it, but in the good ol' U.S. of A, the barter system is all but extinct.
There is however, one pocket of our culture where this still happens on occasion: the swap meet.
Minneapolis Swappers is a Minneapolis-based larder swap, dedicated to sharing amazing homemade food, building community, and empowering others to turn their home food production from a hobby to a habit.
Join the May 2011 food swap this Saturday May 14th from 2 to 4pm at Madame. Just bring one or more homemade, homegrown, or foraged item for swap and a list of ingredients for all your food. Bring as few or as many items as you wish. The more you bring, the more you get to take home. If possible, bring samples for others to try.
Here's how it works. All swaps will be auction style. You'll get a sheet filled for each item. The first 30 minutes will be for sign in, set up, and greetings. The second 30 minutes will be a chance to walk around and sample items from other swappers. The third 30 minutes are devoted to writing down the things you'd like to swap, then the final 30 minutes is when the swapping actually happens.
Minneapolis Swappers May 2011 Food Swap is free to participate. Spots go fast, so reserve your spot right away.
For more information and reservations, visit www.eventbrite.com/event/1607196167/efblike.
Madame
3401 Chicago Avenue South
Minneapolis, MN 55407