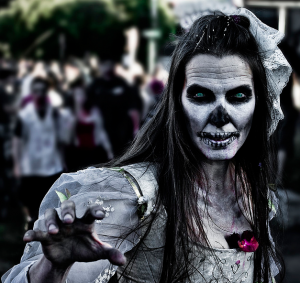 Zombies. They're not just for Halloween anymore.
Zombie culture has spilled out beyond Halloween parties and pub crawls and into prom season. If you like to get all zombie'd up and rock out, Night of The Living Prom III: Wreck of The Edmund Fitzgerald might be for you.
The event is coming to the Turf Club in St. Paul this Friday the 13th (of May), 2011, from 8pm to 2am. This rock 'n roll zombie prom features live music from local blues/rock/stomp heroes The 4onthefloor, country flavored pop rockers The Evening Rig, local pop/rock band Cedar Avenue, and up-and-coming indie darlings, and self-proclaimed "lumberjack pop"-sters Usonia.
While these acts rock the upstairs, the lower level's Clown Lounge will feature live sets from local indie pop artist The Farewell Circuit, psychedelic indie folk/rockers The Color Pharmacy, as well as Bella Ruse and Silverback Colony, as Vaudeville style acts provide a haunted house vibe.
Great Lakes Brewing Company will be on hand with glasses for those who will be partaking of a few pints, and will be hosting a raffle with tons of prizes. Catch a scurvy limbo contest and photography nook to document your spooky prom fashion. To top off the evening, there will be a grand march and the coronation of the Shipwreck King & Queen.
RSVP to the event and get details on the Facebook event page.
Turf Club
1601 University Ave. W.
St. Paul, MN 55104
(651) 647-0486