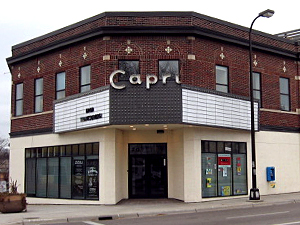 It's been a while since we've talked theater on 365. In the fall of last year, we featured a few theater events, such as Wicked: The Musical (Day 154), A Cool Drink A Water (Day 164), and Always and Forever (Day 185).
On Wednesday May 11th through Sunday May 15th, from 7 to 10pm each night, catch 10 X 10 Fest at Capri Theater in Minneapolis, part of Bedlam Theatre. The festival is a celebration of creativity, funneled down into short but complete 10-minute plays. These 10-minute short plays will be performed during the festival.
The 10-Fest is Bedlam's anchor program of community engagement and new work development. Every year the festival is a great mix of stand-alone pieces and the imaginative seeds of future projects, of professional artists stretching their wings and first-time performers giving it a try. It is an opportunity for the community to take part in live theater by allowing its members to submit their own ideas and participate in group brainstorming sessions, with the final versions being performed on stage during 10-Fest.
Tickets are $15 per set, or 3 sets for $30.
For more information, visit the 10 X 10 Festival page on Bedlam Theatre's website.
Like Bedlam Theatre on Facebook.
Follow @BedlamTheatreMN on Twitter.
Capri Theater
2027 W. Broadyway
Minneapolis, MN
(612) 341-1038