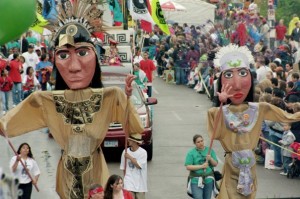 We've been having a lively discussion our Facebook wall regarding what's happening for Cinco de Mayo celebrations in the Twin Cities. After much deliberation, we thought we'd hit the interwebs to see what sorts of fiestas we could dig up. We've compiled our findings today.
Cinco de Mayo Fiesta
The biggest and baddest fiesta outside of the state of Texas happens each year in the District del Sol, just off Cesar Chavez Street in St. Paul's West Side. There's a dizzying amount of live music on 3 different stages, a History Area, Children's Area, Sports Zone, Community Wellness Village, Photo Contest, and Plaza Quinceanera, a vendor area, which are all part of their destinations.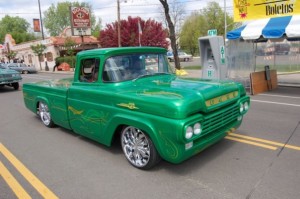 Lowrider Car Show and Hydraulic Showcase
See vehicles so low to the ground, you'd swear they'd scrape the road, and watch them defy gravity with their hydraulic modifications. Don't miss this little slice of urban culture in Castillo Park on Cesar Chavez Street Friday night May 6th from 4 to 9pm. It's a bit like limbo. The lower you go, the more impressive.
Cinco de Mayo Fiesta Parade
Pictured above, the Cinco de Mayo Fiesta Parade happens Saturday May 7th from 10am to noon in Castillo Park. No sooner does the smell of hydraulic fluid clear from the air, and the floats are lining up on Cesar Chavez Street for one of the biggest Cinco de Mayo parades in the country, and the most well attended event of the entire celebrations. Tens of thousands of spectators attend the epic parade. Don't miss it.
People's Choice Salsa Tasting Competition
Train those tastebuds for the heat that's about to be unleashed on them. This is the tastiest and spiciest event of the celebration. Competing in the contest will be several area restaurants, but only one will be given the crown for best salsa. Join the fun!
Cinco de Mayo Menudo 5K
This Cinco de Mayo Menudo 5K run is a benefit for Minnesota Chapter of National Latinos Peace Officer Association (MCNLPO) and begins at 9am at Joseph's Grill on Wabasha Street, winds along the river and finishes in the heart of the Cinco de Mayo Fiesta at the Viva Mexico Stage. Awards will be presented to the top male and female finisher in each age division at 10:15am.
Joseph's Grill
140 S. Wabasha
St. Paul, MN 55107
(651) 222-2435
If you don't have party plans for Cinco de Mayo weekend yet, there's lots going on in St. Paul's West Side, near Castillo Park and Cesar Chavez Street. Head on over there this afternoon and catch some of the fiesta!
All events are free, kid-friendly, and open to the public.
Castillo Park (and surrounding area)
149 Cesar Chavez Street
St. Paul, MN 55107