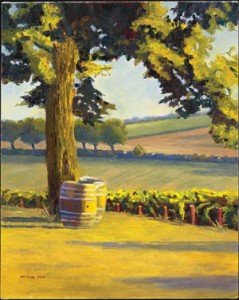 There's nothing quite like finding a perfect wine to accompany a celebration, a meal, hors d'oeuvres, or a gathering with friends or family. With so many different wines to choose from, how do you determine which wine would be best for a specific event?
You could go on the recommendation of someone else–a friend, relative, or coworker. There are a few wine blogs out in the blogosphere that do an excellent job of describing and recommending wines for specific pairings. I also highly recommend checking out Wine Library TV, Gary Vaynerchuk's daily wine video blog. He's informed, honest and passionate about wine, and it shows in his videos.
There's still another way. Attend a wine tasting. This Friday and Saturday at The Depot in downtown Minneapolis, there will be wine tastings, as well as a dinner, reception, and symposium, each celebrating and helping you discover different wines.
Friday evening, the Wine Symposium gets underway at 5:30pm and lasts until 7pm. This will be the educational portion of WineFest. Hear international luminaries in the wine industry talk about wine making techniques, while sipping premium wines. The symposium will be moderated by Cities 97's Brian Turner. Tickets are $100.
Following the Wine Symposium, get set for the Grand Tasting from 6:30 to 9:30pm. Connect with business professionals, community leaders, and fellow food and wine lovers, while sampling incomparable menu selections from top Twin Cities restaurants. Stephanie Hansen and Stephanie March from the MyTalk 107 Weekly Dish show will emcee the event. Business attire is required. Tickets for the Grand Tasting are $85.
If you'd like to attend both events, discounted tickets are available for $150 for both.
Saturday evening begins with a Special Reserve Reception starting at 5:30pm. This spectacular private tasting allows you to join community leaders, VIPs, and WineFest sponsors in tasting reserve wines and mingling with WineFest's Honorary Winemasters from all over the world. Tickets for this exclusive event are $500.
From 6pm to midnight on Saturday, don't miss the magnificent Fine Wine Dinner highlighting a multicourse gourmet menu, hand-paired with delectable wines to accompany each course. This event includes a champagne reception, both silent and live auctions, lively entertainment, and dancing. Dan Barriero from KFAN and Lauren MacLeash from Cities 97 will emcee the event, and live music will be provided by The Midnight Mo Experience. Black tie is optional, and tickets for this exclusive dinner are $300.
All events will take place at The Depot and benefit children's health research, education, and care at University of Minnesota Amplatz Children's Hospital.
For reservations, please call (612) 375-1700 or visit thedepotminneapolis.com and mention WineFest.
For more information, visit thewinefest.org.
The Depot
225 Third Ave. S.
Minneapolis, MN 55401
(612) 375-1700