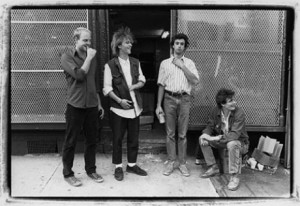 Minneapolis 80's indie rock sensations The Replacements (pictured) are the quintessential example of cult status. Amassing a rabid following which includes many famous actors and musicians, as well as journalists and regular folks like you and I, The Replacements ripped up the midwest music scene in the aftermath of the early punk movement of the late 70s. With brash and brazen songwriting, mangled guitars and snarling vocals, they have risen to fame as the best and most important band you've never heard, and without question, one of the most influential bands of the 1980's.
Coming this Wednesday May 4th at 7pm, you can catch the Minnesota premiere of Color Me Obsessed, the new documentary about The Replacements by director Gorman Bechard. Two additional screenings have been added due to the overwhelming response. This first screening will be at the Women's Club of Minneapolis in Loring Park. The other two screenings will be the following day, May 5th at the Trylon Microcinema at 3258 Minnehaha Ave S in Minneapolis. The 7pm showing on May 5th is already sold out, but the 9:30 show has available seats.
Color Me Obsessed is not your typical rockumentary, however. There is no live performance footage and not one note from any of The Replacements' songs. Director Gorman Bechard brings an extraordinary vision to a unique filmmaking challenge. Told through the eyes of fans, friends, and contemporaries, the film breaks from the traditional music documentary format of music and performances. The film compiles footage from 140 different interviews from rockers like Colin Meloy of The Decemberists, Craig Finn of The Hold Steady, Tommy Ramone, Grant Hart and Greg Norton of Husker Du, and all three members of Goo Goo Dolls, journalists Robert Christgau, Legs McNeil, Ira Robbins, Greg Kot, and Jim DeRogatis, and fans both famous (Tom Arnold, Dave Foley, George Wendt) and not.
Despite its unusual format, Color Me Obsessed is a documentary that really rocks.
After the screening on May 4th, head over to First Avenue for the Color Me Obsessed Afterparty and catch live sets from Chooglin', Story of The Sea, and Matthew Ryan.
The afterparty is $6 or just $2 with ticket stub from the screening.
There are no more advance tickets for the May 4th screening, but there will be a limited number of tickets available at the door that night. Call (612) 332-1775 for details and info. Act fast. This is expected to sell out completely. Also, remember that as of this writing, tickets are still available for the May 5th 9:30pm screening at Trylon Microcinema (info below). Tickets are $10.
Read more about the film and this screening at the event page on Sound Unseen.
Like Color Me Obsessed on Facebook.
RSVP on the Facebook Event Page.
Official Color Me Obsessed website: www.whatwerewethinkingfilms.com/colormeobsessed
Woman's Club of Minneapolis (May 4 screening)
410 Oak Grove St.
Minneapolis, MN 55403
(612) 870-8001
First Avenue (May 4 Afterparty)
701 First Avenue
Minneapolis, MN 55403
(612) 338-8388
Trylon Microcinema (May 5 screenings)
3258 Minnehaha Ave S
Minneapolis, MN 55406
(612) 424-5468