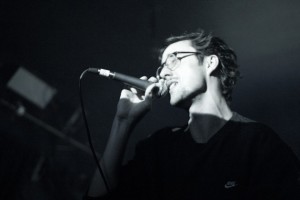 Now through May 5th, you can catch the Minneapolis St. Paul International Film Festival at St. Anthony Main Theatre Complex in Northeast Minneapolis.
If you're a fan of experimental film, head over to the Triple Rock Social Club this Saturday April 30th at 10pm for a musical, audio-visual celebration of experimental film set to ethereal soundscapes provided by How To Dress Well, a musician known for his haunting aural compositions that sound like sad R&B heard through the floorboards from a downstairs neighbor's boombox.
How To Dress Well, the alter ego of Tom Krell of Brooklyn, New York, will be presenting a DJ set inspired by, and including samples of, 90's R&B, chopped up, squeezed together and heavily processed to create an otherworldly sonic experience. The artist will be illuminated primarily by video projections created by video artist Jamie Hurley, which, reflecting the music, are sampled and stitched together from movies, television, and photographs, adding a layer of loose and dream-like storytelling to HDTW's ghostly creations.
Admission is $5, or free with ticket stub from the Experimental Film Program screening (April
29th, 7pm, St. Anthony Main Theater) and/or Free Radicals: A History of
Experimental Film (April 28th, 9:15pm).
Hang out at the Triple Rock this Saturday and enjoy this rave-like atmosphere while stimulating the senses.
More information about How To Dress Well can be found at howtodresswell.blogspot.com.
Like How To Dress Well on Facebook.
Follow @howtodresswell on Twitter.
Triple Rock Social Club
629 Cedar Ave. S.
Minneapolis, MN 55454
(612) 333-7399