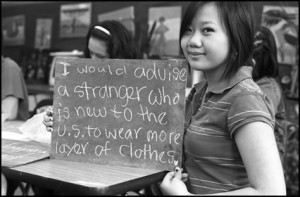 From May through October, 2010, photographer Wing Young Huie's photographs will transform University Avenue in St. Paul into a six-mile public gallery, showing the diversity and everyday realities of the people on this stretch of the urban landscape, where hundreds of images will be displayed on buildings and in windows on the section of University Avenue from the KSTP tower east to the State Capitol.
Each night starting at dusk and running for two hours at a landmark projection site at 1433 University Avenue, the photographer's images will be shown on 40-foot screens, accompanied by a diverse soundtrack by local musicians. Monthly cabarets will feature live community performances and new media presentations. Check the calendar for more information.
There is a two-part book from the Minnesota Historical Society Press that documents this amazing project.
For more information: http://www.theuniversityaveproject.com/