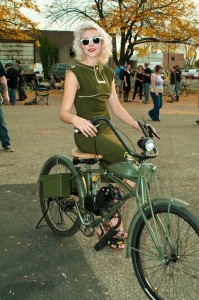 Minneapolis has become well-known throughout the nation as having a vibrant and active bike culture. We have lots of streets with bike lanes, miles of bike trails, lots of great bike shops and bike-friendly businesses. The fame is well deserved.
If you're a bike enthusiast, head over to the Hexagon Bar in Minneapolis, this Saturday April 30, as the Pedals Optional Spring 2011 Bicycle and Autobicycle Rally gets underway from 1 to 8pm.
Whether you're a bike enthusiast or newbie, there'll be plenty of two-wheeled marvels to ogle, from simple fixed-gear bikes, racers, and touring bikes to the more tricked out autobicycles of all types, up to 100cc.
The all ages event will feature a swap meet, raffle of local donated items, bicycle friendly businesses, live local music, and fun, all in the great outdoors. Pennyroyal, Ponyboy, 20 Dollar Love, Crankshaft, Aloha from Hell, Hardcore Crayons, and John Hooks & the Latter Day Crooks will be providing the soundtrack to the event.
The Hexagon Bar is located just off the Midtown Greenway bike path, so it's easy to arrive on your bike. Make it a goal if you plan to attend.
The rally is free, family-friendly, and open to the public. Just show up and have fun.
For more information, visit www.bikewalktwincities.org/news-events/events/pedals-optional-bicycle-and-autobicycle-rally-0.
Hexagon Bar
2600 27th Avenue South
Minneapolis, MN 55406-1504
(612) 722-3454
http://www.hexagonbar.com