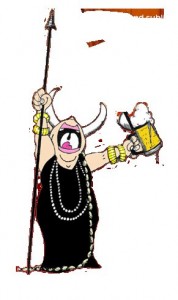 Seems our friends at the Red Stag Supperclub have been extremely busy of late. When I say "busy," of course I mean they've been hosting so many cool events, many of which we've mentioned on these blog pages. Well, get set for another event that may be a bit out of the ordinary for the hip scene that usually ensues on a typical evening in Northeast Minneapolis.
Coming this Wednesday April 27, at 10pm, the Red Stag Supperclub plays host to Opera on Tap, an event that brings the propriety and decency of such cultured entertainment to the casual and unstuffy environment of a bar and restaurant.
Opera on Tap is a nonprofit organization that seeks to break down the stereotype that opera is a stuffy, elitist, proper or boring art form by switching up the environment in which it's presented. Local opera singers are auditioned and chosen to perform in bars such as the Red Stag, giving them a chance to let their hair down. The aim is to make you feel as though you're at a back stage afterparty, hearing some of opera's best known and little known pieces in a friendly, relaxed atmosphere.
Head over to the Red Stag on Wednesday night and get your fix of arias while enjoying a beer and an appetizer. Leave the bow tie and the opera glasses at home.
For more information, visit www.operaontap.com/twincities.
Like Opera on Tap Twin Cities on Facebook.
Like Red Stag Supperclub on Facebook.
Follow Red Stag on Twitter.
Red Stag Supperclub
509 1st Ave. N.E.
Minneapolis, MN 55413
(612) 767-7766
http://www.redstagsupperclub.com