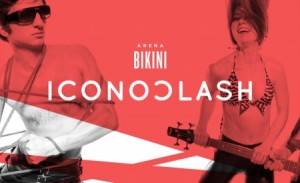 Spring fashion has really amped up its presence in the Twin Cities as many local and regional designers have had a chance to flaunt their handiwork in various runway fashion shows these past couple of weeks. This weekend, an event will showcase an important summer fashion: swimwear.
ARENA Bikini Iconoclash is an annual benefit for ARENA Dances – one of the Twin Cities most celebrated modern dance companies.
Come on Saturday night, April 23rd to see Grainbelt Bottling House in Northeast Minneapolis transform into a hip retro lounge, where models from Vision Management will strut their stuff in the spring's hottest swim fashions for those hot summer days. The show starts at 8pm and wraps up around 11. Then stick around from 11 to 2am and let your hair down for what is sure to be a wild post-event dance party with the ARENA Dancers.
Join together with other fashionistas, dance lovers and arts patrons in Minneapolis in support of ARENA Dances. Enjoy a cash bar, appetizers, and a silent auction, as well as amazing performances and swimwear fashions.
Get tickets online. They're $45 for general admission, or if you wanna roll VIP, it's a hundo ($100, if you're not down with the lingo).
For more information, visit www.arenabikini.org, or call (612) 232-3232.
Grain Belt Studios
77 Thirteenth Avenue NE
Minneapolis, MN 55413