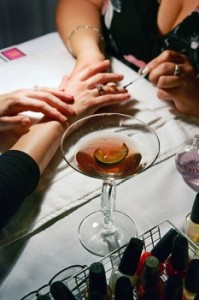 At the W Hotel this week, there is a pair of cool happy hours, one aimed at men and one for the ladies.
Martinis & Manicures is a monthly series (through August) that allows the ladies to unwind with a Cosmopolitan while getting a relaxing massage or manicure, while Men of Distinction is a happy hour for the fellas which the W hosts occasionally, but not monthly.
It just so happens that stars have aligned for both to happen this month. They're coming up this Thursday, April 21st at the W Hotel. The ladies will gather in The Living Room, while the guys will congregate at Prohibition.
Ladies first:
The W Hotel and The Living Room bring you Martinis & Manicures on the third Thursday of each month. You make a reservation (do it soon–it fills up fast), which will be taken and honored from 4:30 to 8:30pm. Your $27 (plus tip) reservation gets you a martini from the bar, and either a massage or a manicure. What do you say, ladies? Sound like a great way to decompress after a long work day? Head over to this unique happy hour event for some coveted "me time".
Men:
Head over to the W after work and meet up with the guys at Prohibition for Men of Distinction, a happy hour event that lets you unwind with a cocktail and some good conversation. Chef Josh Hill will be on hand with a complimentary tasting and small plates, while Frederick Booker Noe, III, a seventh generation distiller and great grandson of Jim Beam, discusses all things Knob Creek. You'll be able to taste Knob Creek Single Barrel Reserve, and classic Knob Creek cocktails will also be available, while enjoying hand-rolled cigars by Maria Caram from International Cigars. Men of Distinction happy hour will run from 6 to 8pm. No reservations are necessary. Call Prohibition at (612) 597-2413 with any questions.
Catch one of these great happy hour event this Thursday for a little post-workday recreation and relaxation.
For more about The Living Room or Prohibition, visit thelivingroom-prohibition.com.
The Living Room and Prohibition at The W-Foshay
821 Marquette Ave.
Minneapolis, MN 55402
http://thelivingroom-prohibition.com