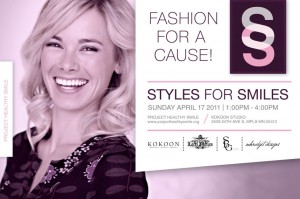 As we mentioned a few days ago, it's MN Spring Fashion Week this week. All week long, fashion-related events have been happening in the Twin Cities, and there are more coming up this weekend.
Styles For Smiles is one such event. This Sunday April 17th from 1 to 4pm, the event makes a splash at KOKOON Design Studio in the Seward area of Minneapolis. Styles For Smiles benefits a wonderful organization, Project Healthy Smile, a non-profit that promotes the need for dental health education in many countries worldwide.
Styles For Smiles Spring 2011 will feature a Runway Show showcasing colorful spring couture by KOKOON & Local Motion Boutique, wine, hors d'oeuvres, an interactive photo booth with photography by Serah Sauser, music by DJ Fatty and Mini-Makeovers from Brett Dorrian Artistry Studios – all for FREE.
Also, get your chance at a rare private shopping experience as KOKOON Design Studio becomes a modern pop up boutique. Check out all the fresh spring looks and then purchase them right there, along with jewelry pieces from local designers SBG Designs & M.Bridget Designs.
Just for being there, you'll also receive a cool swag bag filled with goodies.
Proceeds from all sales go to help a Minneapolis based non-profit working to bring oral health education and dental supplies to impoverished and underprivileged children globally.
The event is free and open to the public.
For more information about Project Healthy Smile, visit projecthealthysmile.org.
For more about Styles for Smiles or to RSVP, visit the Facebook event page.
Kokoon Design Studio
2508 24th Avenue
Minneapolis, MN 55406
www.facebook.com/kokoonpage