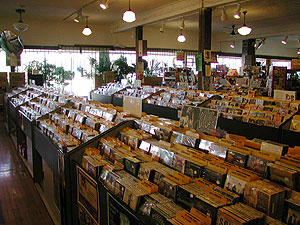 We have previously featured Electric Fetus (Day 235) as a cool local business on 365. Spending a day browsing through records is in itself a unique and fun thing to do in the Twin Cities. We want to let you know also about a cool event being held at Electric Fetus this weekend.
Tomorrow, April 16th, 2011 is Record Store Day 2011 at Electric Fetus, and a big party will mark the occasion.
The store opens at 9am. Birchwood Cafe will be providing breakfast and Peace coffee will provide free cups of joe. From noon to 1:30, there will be a live local music showcase featuring Haley Bonar, Chastity Brown, Holly Newsom of Zoo Animal, Fort Wilson Riot, Ben Kyle of Romantica, and No Bird Sing, then later at 4pm catch a live in-store performance by Low.
Throughout the day, Electric Fetus will be giving away goodie bags of CD's, and give you lots of chances to score some cool swag. Every hour, prizes will be given away–stuff like Fetus gift cards, autographed Jayhawks LPs, John Doe/Jill Sobule tickets, TV on the Radio tickets, Tommy Stinson tickets, Skullcandy headphones, Soundgarden vinyl box set, Of Montreal prize pack, Peter Bjorn & John prize pack, CD mystery packs, and more. You must be present to win.
For Record Store Day, the line forms outside before the store opens at 9am. Each person gets a number and once the store opens, random numbers will be called out. Only a certain number of people will be allowed in the Record Store Day product area at a time. The area will be roped off. Everyone gets a crack at the special Record Store Day product. There will be a limit on the amount of special product you can buy and you can't buy more than one copy of each item.
Also, don't miss the cookout catered by Modern Cafe from 1:30 to 3pm, with free bottles of Vitamin Water while supplies last.
Record Store Day festivities will also be afoot at the St. Cloud and Duluth locations of Electric Fetus. See the event page on the website for more info.
Electric Fetus
2000 4th Ave. S
Minneapolis, MN 55404
(612) 870-9300