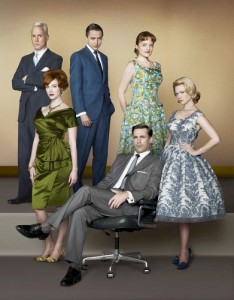 Throughout the history of television, certain shows have influenced fashion, either because they've been completely modern or because they're a throwback to a former time when fashions were classic and timeless. One such show with a retro style sensibility is AMC's Mad Men, the show about a group of men working for Sterling Cooper, a fictional ad agency on Madison Avenue in the early to mid 60's.
The show is credited with bringing back classic style in both men's and women's attire, bringing back into cultural focus the 3-piece suit, polished patent leather shoes, well-groomed hair, and the heavy Jackie Onasis influence in women's attire. Many find it a bit refreshing in a world where more and more, men are wearing t-shirts and jeans to work, and sporting a scruffy, unshaven look in the workplace.
While we won't get into the finer points of men's grooming, the show may be at least partially responsible for the new trend toward well-groomed men.
If you want to bring out your inner Don Draper, this Saturday April 16th, Memory Lanes is giving you the chance with Sterling Cooper Presents: Mad Men of Soul, an epic party celebrating all things Mad Men. Even if you're not a huge fan of the show or have never seen it, you'll find something for everyone at this show.
Before the show head over to Blacklist Vintage, a retro fashion outfitter, and mention the Mad Men of Soul event. They'll take 10% off any item in the store and may even help you pick something out.
Then gather up some friends and head to Memory Lanes, rent some dorky bowling shoes and grab a lane. Take advantage of drink specials on juleps and martinis, and even catch a screening or two of Mad Men before the show starts at 10.
Kicking off the party at 10pm, catch Hip Replacement, a tight, horn-driven funk band that will knock your socks off.
Then at 11pm, local neo-soul luminaries Soulalicious will insist you put your socks back on.
Wrapping things up at midnight, the Robinson Caruso Organization will do what they do. If you don't know, you'd better ask somebody.
Mad Men plus sweet soul music makes for a fun and interesting night. Two things you may not have thought about together–like carrots and whipped cream–will guarantee a great time. Make it a party!
RSVP by going to the Facebook event page.
Memory Lanes Bowling and the Flashback Café
2520 26th Ave. S.
Minneapolis, MN 55406
(612) 721-6211