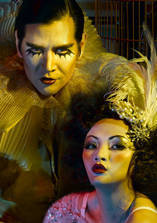 In the fashion world, we're not too sure how Minnesota fares in terms of being known for avant-garde fashion, but this Saturday, you can find out a bit about it.
Fashion Ball 2011, as part of Spring Fashion Week, comes to the Ritz Theater this weekend starting at 7pm on Saturday night, with the runway show kicking off at 8.
This second annual extravaganza captures fashion, dance, and theater all in one night. This spring time fashion bash features styles from local fashion superstars Grethen House and Bluepeg, saucy live dancing by the Fashion Dolls, a theatrical group of high fashion and high level dance artists and dancers with couture designed and styled by Grant Whittaker.
The moment you enter the theater lobby, you are immersed in a world of luxury with fabulous food and signature cocktails. Then when you enter the theater, music and video will immediately take you from your everyday world into a fantasy experience. Fashion and dance explode together on stage, creating a wild, ethereal, otherworldly experience.
Tickets are $35, and all proceeds benefit the Ballet of the Dolls, a group dedicated to education and outreach, company training and archive and documentation.
The evening begins at 7pm and wraps up around 10.
For more information, visit mnfashionweek.com/event/fashion-ball-2011.
Ritz Theater
345 13th Ave. N.E.
Minneapolis, MN 55413
(612) 623-7660