This Thursday, April 14th, a group of former Idol hopefuls will be showcasing their talent at Bunkers Music Bar & Grill in the North Loop neighborhood of Minneapolis.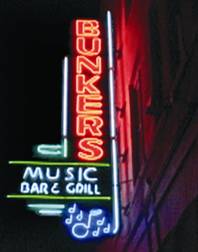 You'll see Hudson High School grad Caleb Hawley, and Malibu-surfer-actor Carson Higgins, who got cut after his performance of "Please Please Me." Also performing is Chris Medina, perhaps the most famous of the cut Idol hopefuls. The Illinois native (pictured above) is known for sticking with his fiance after she sustained brain damage from an accident that left her partially paralyzed. He brought her with him to the audition. J-Lo cried when they cut him.

In addition, a few other Minneapolis based singers who got the axe in Hollywood or beyond—Chris Lawrence and Nels Leafblad, who got no face time on camera—will all be performing a showcase for you Idol fans out there.

The show starts at 8pm and tickets are $7. There is a large lot with free parking right next to the building.

Read more about the show in this article at TwinCities.com. Call Bunkers at (612) 338-8188 for more info.

Bunker's Music Bar & Grill
761 Washington Ave. N
Minneapolis, MN 55401
(612) 338-8188
www.bunkersmusic.com

I'll be honest. We haven't been keeping up on American Idol this season. If you have, you'll know there's a lot of "Idol" chatter out there in the blogosphere, and perhaps you follow them on Facebook or Twitter. Most all of that is story after story talking about the successes of those on the climb to stardom. But what about those who don't make it to Hollywood, or get knocked out right away? We don't hear so much about them. It doesn't mean, however, that there isn't a wellspring of talent there. Rejection or not, many who didn't make the cut still have some serious pipes, and some still grab their share of the spotlight.