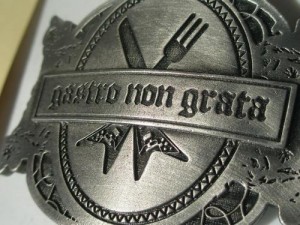 Good food and great music are among the finer things in life and go especially well together. The fine folks who are responsible for Gastro Non Grata get this.
Gastro Non Grata is a collective of foodies and music aficionados that host frequent get-togethers in the Twin Cities, and this Sunday, April 10th, they're taking the party to both levels of St. Paul's Turf Club.
Upstairs you'll experience the usual suspects from Gastro Non Grata–food, fun and live music–and downstairs with another $3 cover, you'll partake in the Wet Dragons PBR Chili Cookoff.
Here's how it's gonna play out. Upstairs, Lift Bridge Brewery will be on hand to school you on what exactly Saison means. Meanwhile, Matt McArthur and the folks at Cheeky Monkey Deli on Selby Avenue will be serving up some tasty bites to enjoy.
On the musical tip, the night kicks off with the sounds of Baby Boys, followed by the modern day troubador/punk sensibility of Nato Coles. Then to close it all out, get set for some serious hipsway with the Sex Rays.
Then of course, downstairs Jimmy Green and the Wet Dragons will be overseeing all the simmering, bubbling pots of chili in their big chili cookoff. A panel of judges will be on hand, with cash and swag up for grabs, sloppy hugs and $3 PBR tallboys.
Cover for upstairs is $7, and if you go the chili wonderland downstairs, it's another $3. Not a bad night for a measly 10 bucks.
For more information, visit Gastro Non Grata's blog.
Turf Club
1601 University Ave. W.
St. Paul, MN 55104
(651) 647-0486