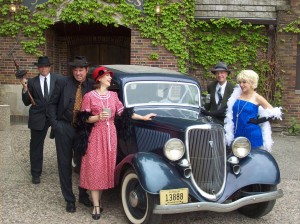 St. Paul is steeped in history and not all of it is pretty. The older Twin City has a bit of a sordid past that not everyone knows about. And the Wabasha Street Caves offer historic tours, one in particular that chronicles a bit of that seedy history.
Each Saturday from noon until about 2pm, the Caves take you on the St. Paul Gangster Tour. With your mobster host, the tour takes you on a journey that explores the sites of the bar fights, kidnappings, and gun battles in which the gangsters of the 1930's participated. You'll hear all about the lives of gangsters like John Dillinger, Ma Barker, Babyface Nelson and more. You can also see the sights where the gangsters lived it up as they planned and executed some of the most notorious crimes ever perpetrated. The guide will show you the gangster hideouts and nightclubs where these notorious mobsters spent time socializing.
The tour begins Saturday at noon and is about 2 hours long. Reservations are required and tickets are $24 a pop, including tax.
For tickets or more information, call (651) 292-1220 or visit www.wabashastreetcaves.com.
Wabasha Street Caves
215 Wabasha St. S.
St. Paul, MN 55107
(651) 224-1191
http://www.wabashastreetcaves.com