Spring is here and along with it, MN Fashion Week commences next week. Gone are the heavy fabrics, long sleeves, and dark colors of winter in favor of lighter, comfortable fabrics, brighter colors and cuts that show off a bit more of that bronzed skin (which you will no doubt have once you've had a chance to catch some rays).
Coming up this Saturday, April 9th, the 8th installment of ENVISION: Artropia Spring 2011 will light up the 5th floor ballroom at the Graves 601 Hotel in downtown Minneapolis, kicking of MN Fashion Week. The event, presented by Ignite Models Inc, V2 Nightlife, Futuretime Productions and City Pages, is the Twin Cities' largest fashion event.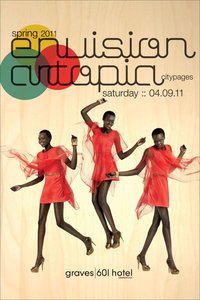 The ENVISION fashion show has gained a reputation as the hippest seen-and-be-seen event to get MN Fashion Week rolling each spring and fall. Over 1,000 of the Twin Cities' most glamorous fashionistas, glitterati, urban hipsters and trendsetters will gather at The Graves to check out all the vibrant new spring fashions from 16 of the top Twin Cities boutiques and designers, including Amanda Christine, Arwyn Birch, Carmichael Claith, Cece Vang, Dawson, Jenny Carle, Kelly Ver Duin, Kjurek, Niki English, Russell Bourrienne, Sydney Ilten and YQY by vivian and Boutiques: Cliché, Drama, Karma, Local Motion and OPM Boutique.
The beautiful Ignite Models will be sashaying down the runway to the pulsating beats of DJ Sheik, with their creative coiffed hair and makeup styled and polished by Rocco Altobelli Salon and Day Spa.
VIP guests will enjoy a spirits and hors d'oeuvres from Twin Cities restaurants including Lotus and Crave from 8 to 9 pm. Then at 9 doors open for general admission, and the party starts pumping at 10 as the first of two runway show sets will commence. The second begins at 11.
Tickets are available online and are $20 for general admission, $50 for VIP, and $75 for VIP front row. You can also buy tickets in person at Cliché, Drama, Local Motion, Karma and Rocco Altobelli Salon & Day Spa (IDS Location Only).
For more information, visit www.envisionmpls.com.
Graves 601 Hotel
601 1st Ave. N.
Minneapolis, MN 55403
(612) 677-1100
http://www.graves601hotel.com