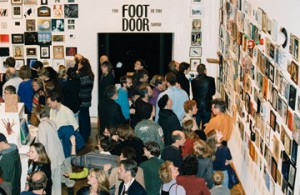 What's an event so awesome that it's held only once every 10 years? If you guessed Hayley's Comet, you're way off. But if you guessed Foot in The Door, hosted by Minneapolis Institute of Arts (MIA), you would be correct.
If you fancy yourself an artist in any way, Foot in the Door offers you a chance to show off your talent. And literally anyone can enter an exhibit. The catch? It has to be no larger than one cubic foot. That is quite literally the only criteria. While it might be a bit late to enter your own work, you can still see the exhibition through June 13 at MIA.
The show dates back to 1980, when MIA hosted Foot in the Door 1. That exhibition was a huge success and featured work from 740 local artists, and 20 years later, in 2000, it grew to over 1,700 artists.
Did we mention the exhibit is free?
Foot in the Door has grown to be the state's largest art exhibition, with nearly 5,000 works registered for the current show. This year, Foot in the Door 4 introduces video and multi-media works, which can be seen at vimeo.com/groups/footinthedoor4. Immerse yourself in Foot in the Door 4 and experience the creative energy of the Minnesota arts community.
For more information: http://www.artsmia.org/foot-in-the-door-4/