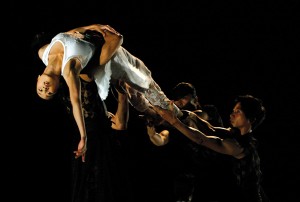 BeijingDance / LDTX (Lei Dong Tian Xia , literally translated as "Thunder Rumbles Under Heaven") was born in September of 2005, and not only caught widespread international attention, but also captured the imagination of many artists in China. BeijingDance / LDTX was born out of a controversial and exciting time of rapid cultural change in China, becoming China's first professional dance company founded independently from government.
Founded by veteran choreographers and a new generation of dancers in 2005, BejingDance / LDTX has become a platform for contemporary dance.
Since its inception, BejingDance / LDTX has traveled extensively throughout Mainland China, Hong Kong, Europe and North America. It will bring its beautiful, dramatic, and graceful show to the Ordway Center for the Performing Arts this Tuesday April 5th at 7:30pm.
Get your tickets online now for $15 to $30, depending on the seats.
This is a one night only performance, so don't delay. For more information, visit www.beijingldtx.com.
Ordway Center for the Performing Arts
345 Washington St.
St. Paul, MN 55102
(651) 224-4222
http://www.ordway.org