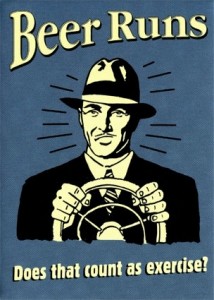 "No, thanks. I'm in training."
This is precisely what you won't hear this weekend as the Minneapolis Running Pub Crawl gets started this Saturday April 2nd at 7pm.
This isn't necessarily for runners, but for anyone. It's a "fun run" that involves copious amounts of malted hops and foam. The "run" starts at Tuggs Tavern on Main in Northeast Minneapolis and ends up at Liquor Lyle's in Uptown, about the distance of a 5k. But for this run, there won't be any competition. No winner or loser. Just fun. And beer.
Since this is an informal, and privately organized event, there won't be any registration fees, and no amenities given. It is a bit late in the game, but there may be some t-shirts left, although we can't guarantee that. The deadline for t-shirt requests is past, but don't let it stop you from participating.
Along the way from Tuggs to Lyle's, the other stops take you through Downtown, and include Kieran's Pub, The Local, and Brit's Pub.
If running through the streets of Minneapolis, meeting up with other folks, and enjoying malt beverages on a spring evening sounds like a good time, head over to the event page on Facebook and RSVP. Or, heck, just show up at Tuggs by 7pm and enjoy a drink or two. Bring some friends and head out Saturday for the Minneapolis Running Pub Crawl.
Remember, it's free to participate!
For more info and to RSVP, hit up the Facebook event page.
Start: Tuggs Tavern
219 Main Street Southeast
Minneapolis, MN 55414-2124
(612) 379-4404

Finish: Liquor Lyle's
2021 Hennepin Ave
Minneapolis, MN 55405
(612) 870-8183