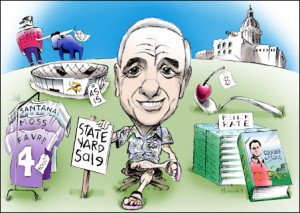 We're not entirely sure what ever happened to the long lost art of the celebrity roast. They used to be big in the 60's and 70's, and somewhere along the line, they've faded into oblivion.
While Dean Martin and the rest of the Rat Pack won't be roasted again anytime soon, journalists and politicians will be gently skewered this Friday, April 1st at MinnRoast 2011 at the Pantages Theatre.
Check-in at the Pantages begins at 5:30pm, while the reception happens at Seven The Steakhouse from 5:30-7pm. There will be complimentary welcome MinnRoast Martinis with Prairie Organic Vodka for the first 500 guests — plus hearty hors d'oeuvres, cash bar,
super silent auction, wine gallery and a terrific raffle prize.
Then head back to the Pantages Theatre for the Roast from 7:30 to 8:30pm. Enjoy this 4th annual Gridiron-style show poking fun at the media and the people they cover. There will be a raffle drawing right after the show.
Those that want to keep the party going can then head back to Seven for the MinnRoast afterparty. There will be special prices on domestic beer, house wine, selected drinks, appetizers and dinner for MinnRoast guests.
Scheduled to appear are several local TV personalities and journalists such as Don Shelby, Paul Douglas, and Dave Hawley, as well as Senator Amy Klobuchar, Governor Mark Dayton, Saint Paul Mayor Chris Coleman, and lots more.
Online sales for tickets are no longer available. The only way to get a ticket is to call Stephanie at (612) 455-6954 for last minute requests.
For more information, visit www.minnpost.com/minnroast.
Pantages Theatre
710 Hennepin Ave.
Minneapolis, MN 55403
(612) 373-5600