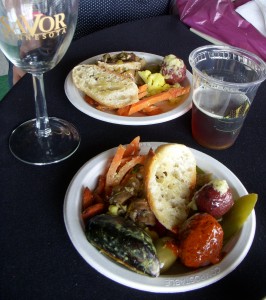 Food events are fun. I'm gonna just go ahead and say it. What's the one thing we always do to celebrate? Make our favorite meal. A night out for dinner. Often accompanied by drinks, particularly beer, bubbly, or wine.
This weekend is your chance to celebrate all things Minnesota, while trying Minnesota-made foods, wine and brews at Savor Minnesota. Head over to Canterbury Park this Saturday for this delicious event, which happens at 1pm and winds down at 5pm. Doors open at 12:30.
Participants will have the opportunity to try local and Minnesota food and drinks from various vendors, including Italian and Chinese to chocolate and strudel. Twenty Minnesota wineries and Minnesota beer will be winning guests over with their local libations.
In addition to the 20 different wineries and vineyards represented, there will also be bakers, brewers, cattle ranchers, saucemakers, and confectioners from around the state.
Get your tickets online for $35 or for $40 the day of the event. Must be 21+ to attend.
For more information, visit www.savorminnesota.com, or call (952) 445-7223.
Canterbury Park
1100 Canterbury Road
Shakopee, MN 55379
(952) 445-7223