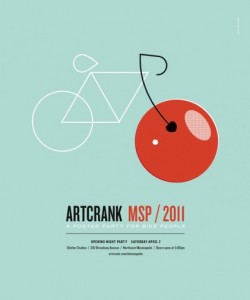 It's no secret by now that Minneapolis is a top bike city in the U.S. We have miles and miles of bike trails in parks, near lakes and rivers, and both Twin Cities are always adding bike lanes to city streets.
That said there are plenty of local businesses and events that cater to the bike crowd. Coming up on Saturday April 2nd catch one of those events as Artcrank gets underway with it's opening night party at photographer Chris Sheehan's amazing and spacious Shelter Studios.
Dero and Nice Ride will be on hand providing a bike corral for those arriving to the party on two wheels, which will be staffed by Artcrank volunteers.
Once inside the party, Chowgirls will dish out tasty vittles and Fulton Beer will flow. Sounds will be laid down by DJ Joseph Pettini, bookending a powerhouse live set from local experimental indie rockers The Book Of Right On, and get inked by a tattoo artist.
A kid-friendly pre-party will be held at Clockwork at their office on East Hennepin at 3pm. If the weather holds, there'll be outdoor activities like a bike obstacle course for kids, plus lemonade and baked goodies from Aster Cafe. At 5, there'll be a short, informal ride to Shelter Studios for the Artcrank opening. Check the website for info on a bunch of other cool pre-parties and group rides for the bike folks.
Of course, this is just the opening party. Check the website for dates of other Artcrank events. Check out the 41 artists who will create posters for Artcrank, including a late addition by Minneapolis writer and cyclist Andy Thieman, who is battling testicular cancer and documenting his fight at Blood + Sweat + Chemo. 100% of proceeds from the sale of Jason M. Miller's poster will be donated to Andy's 2011 Livestrong Challenge campaign.
For more information, visit www.artcrankpostershow.com/minneapolis.
Follow Artcrank on Twitter and Like them on Facebook.
Event Details
Opening: Saturday, April 2
5pm
Shelter Studios
2112 Broadway St NE
Suite 150
Minneapolis, MN 55413