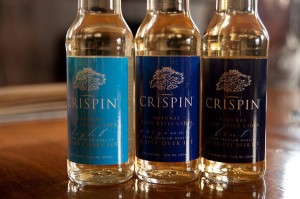 Yesterday's post mentioned our fixation as a culture with food. While the local chef showdown rages on this weekend, Kieran's Irish Pub will be making preparations for their seven course tasting menu paired with Crispin Cider, Fox Barrel Cider, 2 Gingers Whiskey and Green Ox Specialty Meats.
The Crispin Cider Dinner will be held Monday March 28th at Kieran's. It begins at 7pm with the first course.
Speaking of courses, the schedule for the evening goes a little something like this:
1st Course: Amuse Bouche
Chicharon chip tossed with Green Ox pork rillette & apples caramelized in Crispin Cider
Pairing: Ginger Crisp (Crispin Original with 2 Gingers whiskey, garnished with lime)
2nd Course: Butternut Squash & Cider
Butternut Squash & Fox Barrel Pear Cider Soup with roasted pears & topped with bleu cheese crusted walnuts & fried herbs
Pairing: Fox Barrel Pear Cider
3rd Course: Warm Sausage & Potato Salad
Roasted Yukon gold potatoes & Green Ox apple fennel chicken sausage served on a bed of arugula with Browns Lane apple cider vinaigrette
Pairing: Crispin Browns Lane
4th Course: Green Ox Cured Loin Wrapped Sea Scallops
Cured loin wrapped seared sea scallops deglazed with Crispin Brut served over a roasted tomato puree with warmed Green Ox garlic sausage & chiffonade basil
Pairing: Crispin Brut (in a champagne flute)
5th Course: Cider Marinated Brisket
Crispin Lansdowne marinated brisket, smoked and slow roasted for 4 hours. Sliced & served over root vegetables roasted in honey & Honey Crisp cider topped with a 2 Gingers Irish Whiskey & Lansdowne demi glace
Pairing: Crispin Honey Crisp
6th Course: Crème de Banana Crepes
Banana crème stuffed crepes topped with candied almonds and Crispin The Saint Cider glaze and Saint cider semi-fredo
Pairing: Crispin The Saint
7th Course: Aperitif
Ginger Cream: Crispin Cream Cider, Canton, 2 Gingers and House Made Ginger Snap Cookie
The Crispin Cider dinner is helmed by Executive Chef James Kelly. Tickets are limited availability and cost $50. For reservations call Brock Mortensen at (612) 339-4499.
For more information, visit the Crispin Cider website.
Kieran's Irish Pub
600 Hennepin Ave.
Minneapolis, MN 55403
(612) 339-4499