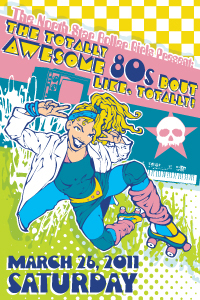 Bad chicks with wheels on their heels. Skating around a track and knocking each other down. Sound like fun? How about adding in some 80's nostalgia? Call it a party.
This Saturday March 26th, The NorthStar RollerGirls will light up Hall B of the Minneapolis Convention Center, at 7pm, as their Totally Awesome 80's Bout gets underway.
The 80's were about over-the-top fashions, like neon, hypercolors, leg warmers, bedazzled denim, glitter, sequins, and crimped hair. The RollerGirls are all about these things too. Top-notch athleticism, wicked strat, and sick moves are also part of their DNA.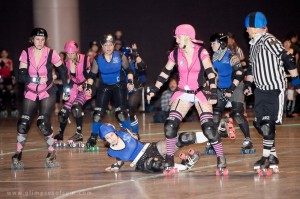 Find your boom box and load up on your 80's tapes and brush up on your 80's lingo. This should be a knock-down drag-out evening of bawdy badness on wheels.
Get your tickets online. Prices vary, and range from $10 to $15. Doors open at 6pm and the fun starts at 7.
The lineup for the evening is Delta Delta Di vs. Kilmore Girls, and Violent Femmes vs. Banger Sisters.
The 80's were, like, totally awesome. Re-live some of that awesomeness and see girls on wheels knock each other down. Fun!
For more information about the NorthStar RollerGirls, visit www.northstarrollergirls.com.
Minneapolis Convention Center
1301 2nd Ave. S.
Minneapolis, MN 55403
(612) 335-6000
www.northstarrollergirls.com