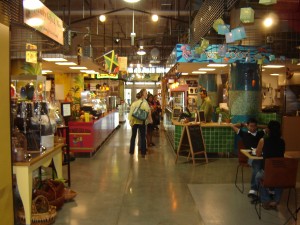 Midtown Global Market is a treasure trove of activities and programs. From writers' groups and chess clubs to dance parties and story time for youngsters, there's something for each member of the family on any given day.
Coming up this Saturday, March 26th, stop by Midtown Global Market for Cooking The Market, a hands-on, inspired-by-the-season cooking class. They'll determine the menu on the spot based on what's fresh, new, and interesting.
Chef Molly Herrmann of Tastebud Catering takes you on this culinary adventure! Great for cooks of all levels of experience and knowledge – beginners and gourmets alike.
The evening kicks off at 5pm with a tour of Midtown Global Market, in which many great finds and ideas will be pointed out to spark inspiration for your creative meal. Sample an assortment of cheese from Grassroots Gourmet. Then the fun part of the class, of course, is eating all you've created!
This unique, high-energy cooking class is great for groups, corporate events, meeting new people, or for hanging out with friends. Stop by Midtown Global Market this Saturday from 5 to 8pm and join in this class. Reserve your spot now.
For more information on Midtown Global Market and its wonderful programs, classes and events, visit www.midtownglobalmarket.org.
UPDATE: In the original post, we mentioned that this was a free class. That detail doesn't appear to be on Midtown Global Market's website, until you begin the registration process. We heard from another source that it was free, but it is in fact, $60 to register. We apologize for any inconvenience.
Midtown Global Market
920 E. Lake St.
Minneapolis, MN 55407
(612) 872-4041
www.midtownglobalmarket.org