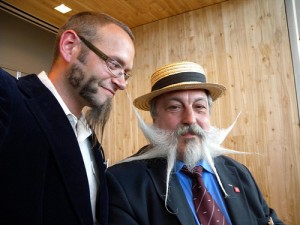 There's no question. Beards have made a huge comeback in recent years. I've seen more bearded dudes this past year than the previous several years combined. Which leads us to a potentially fun thing to do this week.
Coming up this Friday, March 25th, join in the wackiness at the Turf Club as the second annual Minnesota Beard-Off gets underway. Cheer on your favorite bearded dudes, or even ladies with fakes beards, enjoy beard-inspired poetry read by beard enthusiast Stephanie Nero, and groove to the sounds of DJ Jam E-Z, all hosted by beardsman Andy Sturdevant.
While it's true the beard is enjoying a surge in popularity, men throughout the ages have grown facial hair in some type of configuration, from Jesus to Galileo and President Lincoln to Zach Galifianakis.
The 2011 Minnesota Beard-Off will consist of five rounds: one round for each category and a final round to determine the 2011 Minnesota's Beardsman.
Fun starts at 9pm and wraps up around 11. Doors open at 8. Admission is $6. Do it.
For more information, visit mnbeardoff.com.
Follow @mnbeardoff on Twitter.
RSVP at the event page on Facebook.
Turf Club
1601 University Ave. W.
St. Paul, MN 55104
(651) 647-0486